UL art professor and Lynda Frese will debut her latest collection, Apocalypse Now, this Saturday at the Saint Street Inn.
| | |
| --- | --- |
| Hurricane Skie | Frese's previous work, including Pacha Mama, places a distinct focus on the end of time, and her latest contribution to the Lafayette art scene is no exception. Rather than depicting the traditional notion of end of the world, Apocalypse Now will emphasize the closing of one cultural cycle and the begining of a new one through collaboration of 1980s-era gelatin-sliver images as well as Frese's signature mixed-media photo collages. |
"The winter solstice on December 21, 2012 marks the end time of the "long count" Mayan calendar and the beginning of new 5,000 year cycle believed by the Mayans to be the dawning of a new era," says Frese in a release about the event.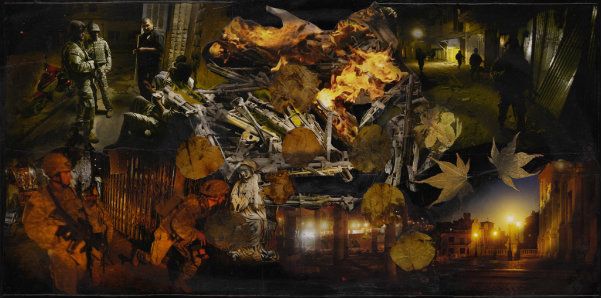 My Soldier
The Saint Street Inn will also be offering complimentary wine and hors d'oeuvres for the hour-long art unveiling beginning at 5 p.m. Apocalypse Now will be on display at the Saint Street Inn through January during normal restaurant hours, which are Tuesday through Saturday from 11 a.m. to 2 p.m.; Wednesday and Thursday nights from 5-10 p.m. and Friday and Saturday nights from 6-10 p.m.
For more details on the exhibition call the Saint Street Inn at 534-8112 or visit saintstreetinn.com. For more information about Lynda Frese and her work visit lyndafrese.com.
RSS Feed
Read the Flipping Paper!
Click Here for the Entire Print Version of
IND Monthly